TICKETS
Tickets on sale December 1, 2020
December 18 – 19, 2020 at 7:30 PM
$10 Reserved seating – Doors open at 7 PM
All tickets must be purchased by calling the box office at 262-782-4430 starting December 1, 2020.. If you receive the our voice mail, please leave a message and a box office representative will call you back during box office hours: Tuesday – Friday from 1 – 5 PM. Thanks in advance as we handle a high call volume as we are no longer able to sell tickets on line due to COVID-19.
Note: You must wear a mask when inside Sunset Playhouse
Suggested for mature audiences only
Performed without an intermission
A Special Event for Sunset Playhouse
Produced by special arrangement with Concord Theatricals for Samuel French
by Charles Busch
Overview
Tickets on sale December 1, 2020
A semi-staged reading in the Furlan Auditorium to test our new Sunset COVID19 safety plan before we launch our 2020-21 Season! You will be able to give us input on safety measures after the performance.
Suggested for mature audiences only.
"Gidget", Frankie and Annette beach party epics, and Hitchcock psychological suspense thrillers such as "Spellbound" and "Marnie" are given a shotgun marriage. Chicklet Forrest, a teenage tomboy, desperately wants to be part of the surf crowd on Malibu Beach in 1962. One thing getting in her way is her unfortunate tendency towards split personalities. Among them is an elderly radio talk show hostess, a male model named Steve and the accounting firm of Edelman and Edelman. Her most dangerous alter ego is a sexually voracious vixen named Ann Bowman who has nothing less than world domination on her mind.
Psycho Beach Party premiered on July 20, 1987 at The Players Theatre, New York City. It was directed by Kenneth Elliott and presented by Theater-in-Limbo, Kenneth Elliott, and Gerald A. Davis. The play was previously presented at the Limbo Lounge.
There will be a talk-back after the show to discuss the audience experience.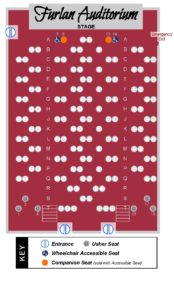 General Guidelines for Sunset Playhouse
2020-21 Patrons
Patrons, volunteers, and staff MUST provide and wear face masks when inside Sunset Playhouse.
Furlan Auditorium house size will be reduced to 138.
Marla Eichmann Studio Theater house size will be reduced to 58.
Tickets will be available for purchase in-person at the box office, by phone (262-782-4430) or via email (boxoffice@sunsetplayhouse.com) For now, tickets will NOT be available online.
Tickets for individual productions will be sold by release date.
If a patron is ill on the night they hold tickets, we will offer a free exchange for a future show or a refund.
Designated entrance to building (south doors)
Doors to building will open 30 minutes before show starts. As patrons enter, they will move directly to their reserved seats.
Patrons will find social distance markings in lobby and hallways with lobby furniture removed.
There will be no will-call for ticket pick up.
The Box Office window, concession counter, and Studio Bar feature plexi-glass barriers.
Ushers will wear gloves and will not touch tickets.
Programs will be a single-page, recyclable but not reusable, document. Additional information will be on individual production web pages.
There will be sanitizing stations in the lobby.
High-touch surfaces will be cleaned on a regular basis.
Concessions will not be available. Patrons are encouraged to bring their own water bottles.
The water fountain, center sink in women's bathroom, and center urinal will be disabled.
Performers will not wear masks during a performance but will maintain as much on-stage social distance as possible within script requirements.
There will be no intermission for Musical MainStage concerts and SideNotes cabarets.
Intermission for Furlan Auditorium productions will be lengthened if needed.
Patrons will exit the theater by row, guided by ushers, starting with the back row and proceed directly to the exit. They may also exit leave via the front south/east exit.
Unfortunately, post-show lobby gatherings will not be possible.
Weather permitting, patrons will be able to greet performers outside door #7, the new "stage door."
Additional guidelines may be viewed on Sunset's website – NEWS
Further guidelines may be added—or removed—as the situation evolves.
Calendar
Sponsor Information
Cast list
Cast
YoYo – Jacob Cesar
Provoloney – Clayton Irwin
Star Cat – Brad Skonecki
Kanaka – Keith R. Smith
Chicklet – Hope Riesterer
Niky – Susan Grygny Zuern
Berdine – Lorraine Pirovano Bueckers
Marvel Ann – Megan Miller
Bettina Barnes – Rachel Bednarowski
Mrs. Forrest – Karlotta Love
Production Team
Director – Karl Miller
Stage Manager – Christine White
Lighting Designer – Marty Wallner
Wig Designer – Keith R. Smith