THE JAYNE TAYLOR CHRISTMAS SHOW, 2020
Tickets on sale November 1, 2020
TICKETS
7:30 PM
$22 in advance / $23 at the door

Tickets for THIS production on sale November 1, 2020. Purchase tickets at the box office window, by phone at 262-782-4430 or by email at boxoffice@sunsetplayhouse.com. Online sales are NOT available due to COVID-19. Tickets will be available at the box office on the evening of the performance starting when lobby doors open at 7PM.
$1 per ticket fee for phone order / Tickets may be purchased at Box Office window until showtime
Note: You must wear a mask while inside Sunset Playhouse.
If you are ill on the night for which you hold tickets, please DO NOT ATTEND the performance.
This is a Special Event – Pick and Choose Flex Vouchers, Sunset Vouchers, Sunset Gift Certificates, Entertainment Coupons, or any Sunset Playhouse special offers, are not valid for this show.
All sales final, no refunds
Overview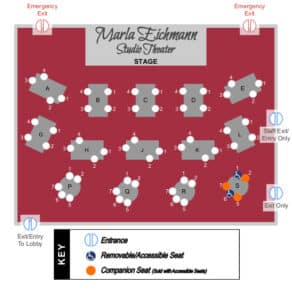 Join Award-winning vocalist Jayne Taylor in our Marla Eichmann Studio Theater who will sing all the classic favorites: "Silent Night" to "Rockin' Around the Christmas Tree."
General Guidelines for Sunset Playhouse 2020-21 Season Subscribers/Patrons
Patrons, volunteers, and staff MUST provide and wear face masks when inside Sunset Playhouse.
Furlan Auditorium house size will be reduced to 138 (seating map attached).
Marla Eichmann Studio Theater house size will be reduced to 56 (seating map attached).
If a patron is ill on the night they hold tickets, we will offer a free exchange for a future show or a refund.
Designated entrance to building (south doors) and exit (north doors)
Doors to building will open 30 minutes before show starts. As patrons enter, they will move directly to their reserved seats.
Patrons will find social distance markings in lobby and hallways with lobby furniture removed.
The Box Office window, concession counter, and Studio Bar feature plexi-glass barriers.
Ushers will wear gloves and will not touch tickets.
Programs will be a single-page, recyclable but not reusable, document. Additional information will be available on the production's website page.
There will be sanitizing stations in the lobby.
High-touch surfaces will be cleaned on a regular basis.
For now, concessions will not be available. Patrons are encouraged to bring their own water bottles.
The water fountain, center sink in women's bathroom, and center urinal will be disabled.
Performers will not wear masks during a performance but will maintain as much on-stage social distance as possible within script requirements.
There will be no intermission for Musical MainStage concerts and SideNotes cabarets.
Intermission for Furlan Auditorium productions will be lengthened if needed.
Patrons will exit the theater by row, guided by ushers, starting with the back row and proceed directly to the exit. They may also exit leave via the front south/east exit.
Unfortunately, post-show lobby gatherings will not be possible.
Weather permitting, patrons will be able to greet performers outside door #7, the new "stage door."
Additional guidelines may be added—or some removed—as the situation evolves.
Calendar
Sponsor Information
Cast list
Jayne Taylor and a special guest