[vc_row][vc_column][vc_column_text]Box Office Hours:
Our box office is open from 1-7 PM Tuesday, 1-5 PM Wednesday through Friday, and 1-4 PM on Saturdays.
The Box Office is also open one hour prior to any performance for purchase of tickets for that evening's performance ONLY and through intermission for purchase of tickets for other shows.
BOX OFFICE CONTACT
Call us at 262-782-4430.
Please leave a message and a box office representative will return your call. Please note: if calling one hour before the start of a performance, we will be unable to take your call as box office representatives will be assisting walk up customers purchasing tickets for the performance. If you are calling to inquire about ticket availability for that show, unless you hear a message stating tickets are sold out, you will be able to purchase at the window, one hour prior to the performance. Please arrive early to select the best available remaining seats for the production. You may also e-mail us at boxoffice@sunsetplayhouse.com.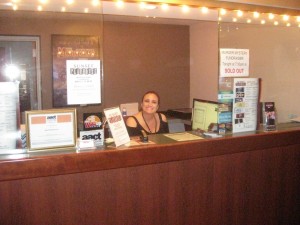 Box Office Manager
Stephanie Rejman Staufenbeil
T-F 1-5 PM
262.782.4431 x291
sstaufenbeil@sunsetplayhouse.com
Located at: 700 Wall St., Elm Grove, WI 53122
PURCHASE TICKETS ONLINE 24/7
[/vc_column_text][/vc_column][/vc_row]