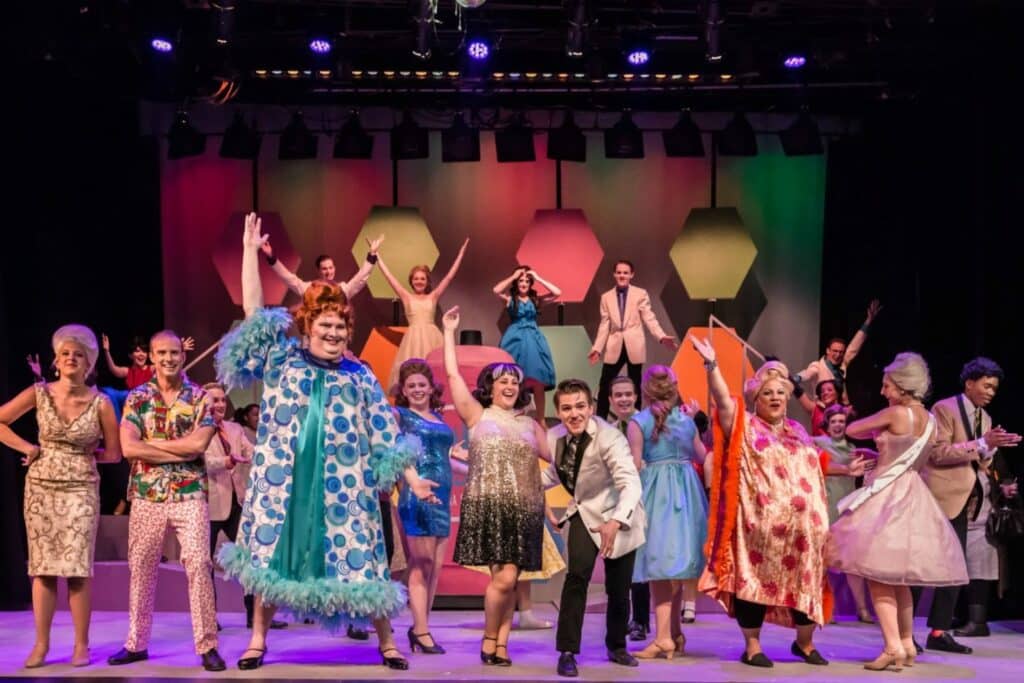 Welcome! We hope you will audition for a Sunset show!
We hold auditions for all performances at Sunset Playhouse, and EVERYONE is welcome to try-out for every show!
Our box office and lobby are closed for in-person service until September 1, 2020. 
For further information or if you have any questions, contact the box office by calling (262) 782-4430 or emailing boxoffice@sunsetplayhouse.com.
SUNSET PLAYHOUSE SEARCHING FOR PROFESSIONAL SINGERS & RISING STARS
This is a virtual audition. Performances will be in-person in the Furlan Auditorium.
Musical MainStage is a series of six concerts requiring  three professional singers and one Rising Star per show.  Styles needed for its 2020-21 season include rock, pop, standards, folk, jazz, and country.
Rehearsals are minimal and performances take place on Mondays and Tuesdays.  Students who will be enrolled in any area high school from September, 2020 – June, 2021 are eligible to be named as a Rising Star.  All singers who are interested should submit a 2-minute recording of themselves singing a favorite song.  Accompaniment can be a karaoke  track, or live piano.  On the video, please introduce yourself and the title of your chosen song.  .
High school students auditioning to be Rising Stars, please include your age and the name of your high school in the introduction to your video audtion
Email the recording along with your full name, address, phone and show availability to:  amather@sunsetplayhouse.com.  
All recordings must be submitted by October 30, 2020. 
Auditions: Video submissions – deadline October 30, 2020
Location: Sunset Playhouse, 700 Wall Street, Elm Grove, WI
For further information or questions please contact Ann Mather at 262-782-4431 x221 or email her at amather@sunsetplayhouse.com 
Most Rehearsals are on Monday nights, tech on Sunday nights, all shows are on Monday and Tuesday at 2 PM and 7:30PM,  4 performances.
Click link in general information above to review our SAFETY GUIDELINES for auditions, rehearsals, and performances.
The safety of our performers, volunteers, patrons, and staff are our top priority.  Please click the link in our general information above to view our safety guidelines for auditions, rehearsals, and performances. 
A MIDSUMMER NIGHT'S DREAM will be directed by Karl Miller. Auditions will consist of readings from the script.
Auditioners will be asked to fill out an Audition Information Sheet prior to auditions. Please bring your own pen.
You must be available for EVERY technical rehearsal (Friday before Opening through Preview Night) and EVERY performance to be cast in this show.
Auditions: Dates TBD
Callbacks: TBD
Rehearsals: TBD
Performances: TBD
Read further for a synopsis and character descriptions.
Contact Ann Mather at amather@sunsetplayhouse.com or 262-782-4431, ext 221.
Synopsis
A Midsummer Night's Dream portrays the events surrounding the marriage of Theseus (the Duke of Athens) and Hippolyta (the former queen of the Amazons). The story follows the evening adventure of four young Athenian lovers, a group of six mechanics/amateur actors preparing a play for the royal wedding, and a kingdom of fairies who inhabit the forest in which most of the story is set. The play is one of Shakespeare's most popular works for the stage, filled with love, laughter, and magic.
Character Descriptions (ages are flexible)
Male Characters
Theseus – The duke of Athens and a hero from Greek mythology. Theseus has just returned from conquering the Amazons, a race of warrior women, and is about to marry its conquered queen, Hippolyta. Because of this impending wedding, the mood is festive, characterized by a heightened sense of erotic expectation and anticipation. Theseus himself projects confidence, authority, and benevolent power.
Egeus – A respected nobleman in Theseus's court who complains to the duke that his daughter, Hermia, refuses to marry the suitor he has selected, Demetrius. Egeus's wish to control his daughter is so severe that he asks Theseus to sentence her to death if she refuses to marry the young man. Theseus reduces the penalty from death to life as a nun.
Lysander – A young nobleman of Athens, in love with Hermia, whose father refuses to let her marry the young man. Believing that love conquers all, Lysander persuades Hermia to run away from her home and family.
Demetrius – A young nobleman of Athens. In the past, Demetrius acted as if he loved Helena, but after Helena fell in love with him, he changed his mind and pursued Hermia. Emboldened by Egeus's approval of him, Demetrius is undeterred by the fact that Hermia does not want him.
Peter Quince – A carpenter and the nominal leader of the craftsmen's attempt to put on a play for Theseus's marriage celebration. Quince is often shoved aside by the abundantly confident Bottom. During the craftsmen's play, Quince plays the Prologue.
Nick Bottom – The overconfident weaver chosen to play Pyramus in the wedding celebration play. Bottom is full of advice and self-confidence but frequently makes silly mistakes and misuses language. His simultaneous nonchalance about the beautiful Titania's sudden love for him and unawareness of the fact that Puck has transformed his head into that of an ass mark is the pinnacle of his foolish arrogance.
Francis Flute – A bellows-mender chosen to play Thisbe in the craftsmen's play. Forced to portray a young girl in love, the bearded craftsman determines to speak his lines in a high, squeaky voice.
Tom Snout – A tinker chosen to play Pyramus's father, Snout ends up playing the part of the Wall, dividing the two lovers.
Snug – The joiner, chosen to play the lion, worries that his roaring will frighten the ladies in the audience.
Robin Starveling – The tailor cast in the role of Thisbe's mother ends up playing the part of Moonshine.
Oberon – The king of the fairies. Oberon begins the play at odds with his wife, Titania, because she refuses to relinquish control of a young Indian prince whom she has kidnapped, but whom Oberon wants for a knight. His desire for revenge leads him to send Robin to obtain the love potion flower that creates so much of the play's confusion and farce.
Robin "Puck" Goodfellow – A mischievous fairy who delights in playing pranks on mortals; he is sometimes referred to simply as Puck. Oberon's jester, Robin's antics are responsible for many of the complications that propel the play. At Oberon's bidding, Robin sprinkles "love juice" in the eyes of various characters to change whom they love. But, when he makes mistakes that lead to unintended consequences, he enjoys the conflict and mayhem that ensue.
Philostrate – Theseus's Master of the Revels, responsible for organizing the entertainment for the duke's marriage celebration.
Peaseblossom, Cobweb, Moth, and Mustardseed – Fairies whom Titania orders to wait on Bottom after she falls in love with him.
Female Characters
Hippolyta –The legendary queen of the Amazons, engaged to marry Theseus. Although she reluctantly agrees because of her defeat in combat, she does not act like an unwilling bride. Theseus is very courtly in his manner toward his betrothed, and she is unfailingly deferential toward him.
Hermia – Egeus's daughter and childhood friend of Helena. Hermia is a beautiful young woman of Athens, and both Demetrius and Lysander are in love with her. Hermia defies her father's wish that she marry Demetrius because she is in love with Lysander. Unusually strong-willed and independent, she refuses to comply with the demand to marry Demetrius and resolves to elope with Lysander.
Helena – A young woman of Athens in love with Demetrius. Helena has been rejected and abandoned by Demetrius who had claimed to love her before he met her best friend, Hermia. Consequently, Helena tends to speak in a self-pitying tone. She also puts herself in dangerous and humiliating situations, running through the forest at night after Demetrius despite his protestations.
Titania – The beautiful queen of the fairies. Titania resists the attempts of husband Oberon to make a knight of the young Indian prince whom she has taken. Until Oberon gives up on his demand, Titania has sworn to avoid his company and his bed.
Robin "Puck" Goodfellow – Mischievous sprite with magical powers
Peaseblossom, Cobweb, Moth, and Mustardseed – Fairies whom Titania orders to wait on Bottom after she falls in love with him.
Peaseblossom, Cobweb, Moth, and Mustardseed – Fairies whom Titania orders to wait on Bottom after she falls in love with him.