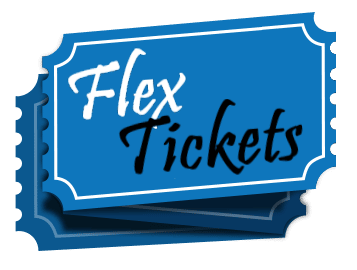 Contact the Box Office to order

(not available for online purchase)
Flex Ticket Sales for our 2022-23 Season have ended.
Our Box Office is currently open Tuesday-Friday from 1-5 PM for in-person service to purchase single and group tickets.  Please call (262-782-4430) or email (boxoffice@sunsetplayhouse.com) with questions or to order tickets based on our ticket release dates posted below.
2022-23 Prices – Buy four or more Flex Tickets by August 31, 2022
-Save $4.00 – $6.00 per ticket* on Musicals & Holiday Show
-Save $2.00 – $4.00 per ticket* on SideNotes
-Save $2.00 per ticket* on Adult tickets for Plays, Musical MainStage
Flex Tickets
– Order 4 or more Flex Tickets at $21 per ticket
– Receive Flex Tickets which you may redeem for any Furlan, Musical MainStage, or SideNotes performances once single tickets open to the public. Flex Tickets may NOT be redeemed before the Single/Flex Ticket Release Schedule.
Note:  Flex Tickets are not available for purchase after August 31, 2022
IMPORTANT FLEX TICKET POLICY UPDATE 
Starting with our 2021-22 Season, the Flex Now option will not be offered. 
T

here will be no pre-single ticket release date availability for Flex Tickets. 

Flex Tickets may only be redeemed for seating only once single tickets are released to the general public.

If you wish to select your seats prior to single ticket release dates for productions, please order a Full-Season Subscription.

Flex tickets will be available for purchase for the 2022-23 season until August 31, 2022.
*Processing fees to be applied