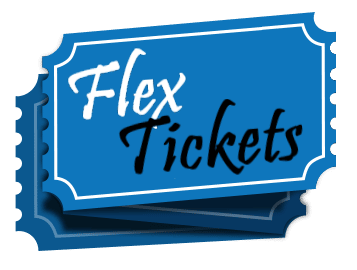 Contact the Box Office to order

(not available for online purchase)
Our Box Office is currently open Tuesday-Friday from 1-5 PM for in-person service to purchase single and group tickets. Please call (262-782-4430) or email (boxoffice@sunsetplayhouse.com) with questions or to order tickets.
2023-24 Prices – Buy four or more Flex Tickets by August 31, 2023
-Save $4.00 – $6.00 per ticket* on Musicals & Holiday Show
-Save $2.00 – $4.00 per ticket* on SideNotes shows
-Save $2.00 per ticket* on Adult tickets for Plays or Musical MainStage shows
Flex Tickets
-Order 4 or more Flex Tickets at $22 per ticket
-Receive Flex Tickets which you may redeem for any Furlan, Musical MainStage, or SideNotes performances startig July 18th
Note: Flex Tickets are not available for purchase after August 31, 2023
IMPORTANT FLEX TICKET POLICY UPDATE
Starting with our 2021-22 Season, the Flex Now option has been eliminated.
-Flex Tickets may be redeemed for seating starting July 18th
-If you wish to confirm your seats for productions prior to this date, please consider ordering a full season subscription
-Flex tickets will be available for purchase for the 2023-24 season until August 31, 2023.
*Processing fees to be applied