Furlan Auditorium Production
TICKETS
Adult – $21
Senior (60+), Student, and Military Personnel – $18
Child (12 and under) – $10
Groups of 15 or more – $16
Value Nights (September 8 and 14) – $10.00
Evenings at 7:30 PM, Saturday Matinee (September 24) at 3 PM, Sunday Matinees at 2 PM
Online sales close 1 hour prior to performance. Tickets may be purchased at Box Office window until showtime.
Overview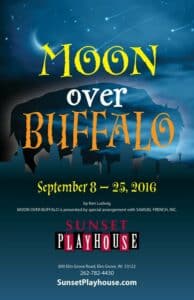 Click HERE to preview our MOON OVER BUFFALO program
A hilarious comedy, MOON OVER BUFFALO centers on a couple of over-the-hill actors trying to keep their marriage and their ragtag touring company afloat. In Buffalo, New York, there's suddenly one last shot at stardom — film director Frank Capra is rumored to be arriving for their matinee and might sign them to a Hollywood contract. But this is fun-filled farce at its finest so everything that can go wrong does go wrong. It's the perfect recipe for an evening of madcap, door-slamming, belly-laugh adventures.
"MOON OVER BUFFALO is hilarious! An evening of farcical delight. Go and enjoy!" – New York Post
September 8 – 25, 2016
Sponsor Information
Cast list
Production Credits