Furlan Auditorium Production
Evenings at 7:30 PM, Saturday Matinee (March 14, 2020) at 3 PM, Sunday Matinees at 2 PM
Adults – $22.00
Seniors – $20.00
Child – $11.00 (12 and under)
Groups of 10 or more – $17 Click HERE for more information
Value Nights (February 27 & March 4, 2020) – $11.00
$3 per ticket fee for online order / $1 per ticket fee for phone order

Online sales close 1 hour prior to performance. Tickets may be purchased at Box Office window until showtime.
All Sales FINAL – No Refunds
Overview
As a company of actors attempts to deliver a comedy onstage, we go behind the scenes where the real farce explodes. Everything that can go wrong does, as the actors try desperately to hang onto their lines, their sanity, and their clothes. This stage classic takes a fond look at the follies of theater folk whose out-of-control egos, memory loss, and passionate affairs turn every performance into a high-risk adventure.
You'll laugh again. And again…when this sidesplitting, award-winning, classic comedy returns to the Furlan after performances in '89 and '09.
The funniest farce ever written.
Click here to preview the program.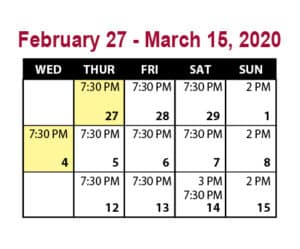 Calendar
Sponsor Information
Cast list
Cast

Dotty – Marcee Doherty-Elst
Director – Dustin J. Martin
Technical Director –
Matthew Carr
Assistant Stage Manager – Merry Jaeger
Costume Designer – Kate Dombrowski
Lighting Designer – Chris Meissner
Sound Designer – Jan Pritzl
Properties Designer – Lynn Ludwig-Franitza
Fight Director – Christopher Elst