Furlan Auditorium Production
Evenings at 7:30 PM, Saturday Matinee (December 5 & December 19) at 3 PM, Sunday Matinees at 2 PM
TICKETS
Adults – $26.00
Seniors – $24.00
Child – $13.00 (12 and under)
Groups of 10 or more – $21 Click HERE for more information
Value Nights (December 3 & 9, 2020) – $13.00
$3 per ticket fee for online order / $1 per ticket fee for phone order

Online sales close 1 hour prior to performance. Tickets may be purchased at Box Office window until showtime.
All Sales FINAL – No Refunds
Overview
From the creators of the record-breaking Broadway sensation THE PRODUCERS, comes this monster new musical comedy. Comic genius Mel Brooks adapted his legendarily funny film into a brilliant stage creation – YOUNG FRANKENSTEIN.
Grandson of the infamous Victor Frankenstein, Frederick Frankenstein (pronounced "Fronk-en-steen") inherits his family's estate in Transylvania. With the help of hunchbacked sidekick Igor (pronounced "Eye-gore") and leggy lab assistant Inga (pronounced normally), Frederick finds himself in the mad scientist shoes of his ancestors. "It's alive!" he exclaims as he brings to life a creature to rival his grandfather's. Eventually, of course, the monster escapes and hilarity ensues.
Suggested for mature audiences only due to language, adult situations, and Mel Brooks' humor
It's alive! The electrifying adaptation of Mel Brooks' monstrously funny film will leave you in stitches.
Directed by Tommy Lueck
Choreographed by Reggie Kurschner
Music Direction by Mark Mrozek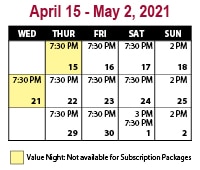 Calendar
Sponsor Information
Cast list