"Sunset's HAIRSPRAY A Joyous '60s Youth Movement"
By MARILYN JOZWIK
In the musical "Hairspray," Tracy Turnblad finds herself in high school detention hall with several blacks and has a ball learning some new dance moves. As was the case with many young people at the time, Caucasian Tracy is color blind. It was the older generation that often wasn't.
Race is at the heart of "Hairspray," though it is such a fun, joyous, wild ride that the lessons are easily digested.
"Hairspray," Sunset Playhouse's summer musical offering, has a big cast of mostly young people who are so sharp and focused it appears they have used every minute of their summer vacation on rehearsal. Watching the stage full of mostly teenagers dancing to the music of the '60s reminded me of the Kids from Wisconsin, the state's accomplished, young musical ambassadors. Two cast members (Emma Borkowski and Hope Riesterer) have, in fact, performed with the Kids.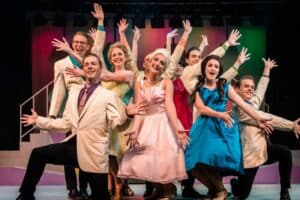 Tommy Lueck directs the show, which had a Friday night audience engaged from start to finish. Borkowski as the indomitable Tracy, with her oversized hair and body, opens the show by leading the company in "Good Morning Baltimore" as she wakes up to another bright day of possibilities singing, "Give me a chance, 'Cause when I start to dance I'm a movie star." On display are Borkowski's strong voice, perfect for belting out the '60s tunes; the great-looking, colorful, well-tuned ensemble; plus the fine Mark Mrozek-led six-piece band that kept a good balance with the vocals through rock numbers and ballads.
Next, we are introduced to Tracy's best friend, the shy Penny (Amber Weissert), as they watch "The Corny Collins Show," a take-off on popular teen program of the '60s "American Bandstand." Tracy's mother, Edna (Noah Maguire), who doesn't leave home because of her size, takes in laundry and is ironing in the scene and hoping Tracy will turn off the noisy music. We soon meet her dad, Wilbur (Keith R. Smith), who matches his daughter's optimism and enthusiasm.
As good as the young people are, it is the performance of Maguire as Tracy's mom (the part has been a man in drag ever since the 1988 film) that centers the show. Maguire is a mountain of man, but moves with the lightness of a cat and possesses a marvelous gift for comedy. He is fast becoming one of my favorite local performers, having had outstanding turns in "The Underpants" and "Spamalot," among others. Edna's kind, understanding, open-m character here engages well with her daughter and husband. Edna and Wilbur's "You're Timeless to Me" was a real crowd favorite, with the unlikely couple proclaiming their old-fashioned love for each other (which is what keeps the bullied Tracy grounded).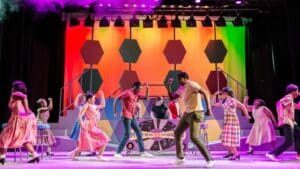 "Hairspray" has its villain, the racist, ambitious producer of "The Corny Collins Show," Velma (Megan Rose Miller), who makes sure her daughter, Amber (Riesterer), is front-and-center among the teenagers performing on the show. Miller delivers another strong performance as the scheming Velma, to go along with starring roles in "Thoroughly Modern Millie" and others, singing about her devious ways with conviction in "Velma's Revenge."
Riesterer, who mimics her mom in appearance and attitude, plays the ultimate spoiled, mean-spirited teen to perfection, leading the teen Council Members of Collins's show in the fun, snappy "Cooties" number, providing top-notch vocals and moves.
The show adds the element of race as blacks have been allowed only one day a month to appear on "The Corny Collins Show." Tracy leads the charge to get her black friends more time on the show and integrate them as well, arguing, "If kids saw us dancing together on TV, they'd realize that we're not so different after all."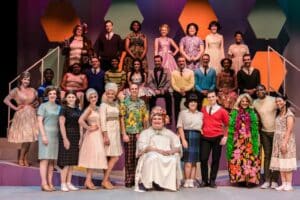 As Seaweed, Jahbarri Bradshaw leads the black contingency with some smooth moves. Seaweed and Penny soon become a couple, much to the dismay of Penny's prudish mom (a demonstrative Margaret Teshner), who goes so far as to tie up her daughter to keep her from a world she herself doesn't understand. Sharon Tyler as Motormouth Maybelle, the black owner of a record shop and host of Negro Day on Collins's show, gives her character plenty of sass as she ends Act I with "Big, Blonde and Beautiful."
Daniel Persino as Link, the Elvis-like heartthrob on Collins's show, is pushed into a pairing with the pretentious Amber, but soon finds the spunky, unpretentious Tracy more appealing. Persino's Link nicely straddles the career ambitions and good intentions of his character, while adding great performance qualities. Brad Skonecki has the right demeanor for the slick Collins role, but could have been stronger vocally. Smith does a nice job with the Wilbur role and a couple smaller roles.
But it is Borkowski who shines in every scene, keeping up with her character's endless optimism and energy for a totally engaging performance.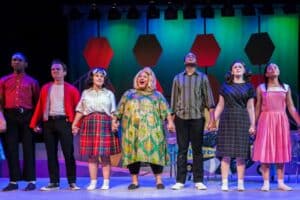 Visually, this show is a rainbow of color, from Matt Carr's uncomplicated set to Lisa Quinn's brightly hued outfits. Choreographer Reginald T. Kurschner has his charges performing all the delightful dance scenes with relaxed precision, yet a spontaneously sunny quality. Big ensemble numbers are a treat with synchronized, well-executed moves, from hair spraying to gym class dodgeball.
Perhaps more than any other show this year, Sunset's motto has, in "Hairspray," been delivered in large doses of youthful energy and talent: "Entertainment begins at Sunset."
If you go
Who: Sunset Playhouse
What: "Hairspray"
When: Through Aug. 11
Where: 800 Elm Grove Road
Info/Tickets: 262-782-4430, SunsetPlayhouse.com