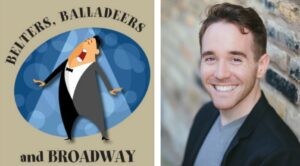 Classic ballads, timeless showstoppers, and signature songs by legendary belters will be featured at the SideNotes Cabaret as DOUG CLEMONS and ANNE VAN DEUSEN present BELTERS, BALLADEERS, AND BROADWAY, June 15-18, 2017.
Clemons and Van Deusen have assembled a splendid collection of tunes from classic composers such as Cole Porter, Rodgers & Hammerstein, and Lerner & Loewe. Audiences also will enjoy selections from contemporary musicals including Les Miserables, Beauty And The Beast, and Phantom Of The Opera.
The SideNotes Cabaret is presented in the intimate Studio Theatre of Sunset Playhouse.
DOUG CLEMONS is a regular at Sunset's Musical MainStage Concert Series and a favorite of audiences throughout Wisconsin, having appeared with Skylight Music Theatre, Milwaukee Opera Theatre, and First Stage Children's Theater. His concert credits include soloist for The Utah Light Opera, Florentine Opera, Racine Symphony Orchestra, and The Door County Opera Festival.
ANNE VAN DEUSEN is active as a pianist, accompanist, and music director in and around the greater Milwaukee area. In addition to her duties as vocal coach at St. Thomas of Canterbury in Greendale, she has worked with Skylight Music Theatre, Milwaukee Ballet, In Tandem, Off The Wall, and many other local theatre groups.
Performances are Thursday through Saturday, June 15-18 at 8:00 p.m. and Sunday, June 19 at 3:00 p.m.
Sunset Playhouse is proud to be celebrating its 57th season, and now offers eight productions in the Furlan Auditorium, six Musical MainStage concerts, and three shows in the bug in a rug Children's Theater series. To reserve tickets, call 262-782-4430 or visit sunsetplayhouse.com. For group sales, contact Stephanie at 262-782-4431,
ext. 291.