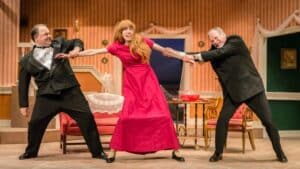 Gender confusion has been in the playwright's arsensal for decades. Probably the best-known and oldest example is Shakespeare's "Twelfth Night," with its set of twins often appearing as the opposite sex.
Not surprisingly, Ken Ludwig ("Lend Me a Tenor") uses The Bard's play as a backdrop for his hilarious romp, "Leading Ladies," Sunset Playhouse's early summer offering.
Director Michael Pocaro said before the show, "I always get the wacky comedies." That's probably because he does such a good job with them. Ludwig's "Ladies" contains opportunities for loads of laughs as its two main characters – down-on-their-luck British Shakespearean actors – try to pull off fraud that could net them a million each. The only catch: they must pretend to be women.
Those two actors, Mike Owens as Leo Clark and Brandon C. Haut as Jack Gable, must also present themselves – in drag—as Maxine (Owens) and Stephanie (Haut) to appear at the home of a wealthy, perpetually dying woman, Florence (Betty Petersen), as the long-lost nieces she has named as her heirs. It is a chance for the two struggling actors to get back on their feet, if they can pull it off. But it requires they play the most difficult roles of their lives!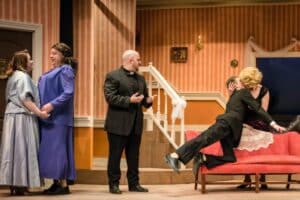 There are so many complications along the way that only add to the hilarity as the pair stumble into Florence's household in York, Pennsylvania, meeting her niece, Meg (Stephanie Pluta), who is getting ready to marry Duncan (Matt Carr), a greedy, uptight minister, as well as her doctor (Glenn Villa) and his son, Butch (Scott Korman). Butch is dating Audrey (Sarah Briana Monahan), Florence's part-time helper. These relationships change faster than the pit crew at Indy as Leo and Jack often must appear as themselves to the household, as well as their Maxine and Stephanie characters. Perhaps the funniest scene occurs when Meg insists that Maxine and Leo see her together.
I've seen Mike Owens in the past couple years in a variety of shows and am so impressed with his ability to handle a wide range of comic roles – from his Noel Coward-like character in "The Man Who Came to Dinner" to his child-adult character in "Leaving Iowa."
In "Leading Ladies," Owens is at his comedic best. He and Haut are a wonderful pairing. Their verbal jousting on the train once Leo has cajoled Jack to take on the ruse is wonderfully done, the scene enhanced by the gentle rumbling of train wheels underneath the dialogue. Jan Pritzl handled the sound, which also included music of the era – the show is set in 1958 – that slowly faded into scenes, rather than abruptly being cut off, which I would've found annoying.
The two in drag are hilarious before they say or do anything, Owens being somewhat stout while Haut is tall and rail thin. I can't imagine what costume designer Kate Dombrowski had to go through to find outfits for these two.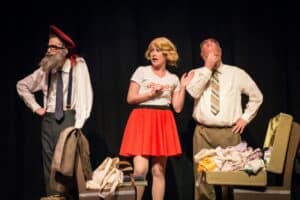 Pluta is perfect for her excitable, high energy character. As Meg, she demonstrates nicely her love for Shakespeare, cooing over Leo Clark when she gets to meet him. She, too, has good comic timing and can turn a phrase into laughs, like when she tells Leo she knew he was in love with her "when you (looked) at me, sort of cross-eyed, with your mouth dangling open."
I just loved Monahan's take on Audrey, who practices her roller skating for her new job. Monahan has no trouble with the extra demands, apparently having rolled during a stint at Disneyland. She keeps her ditzy, gum-chewing blonde character – who seems impressed with her own growing vocabulary – in an engaging state of bemusement. So much fun to watch!
Villa's Doc is also appealing. I especially enjoyed his slightly inebriated character as the emcee of his men's club entertainment – Leo and Jack performing bits from Shakespeare – with the Sunset audience doubling as the club's audience. Villa engages well in the effectively staged scene.
Playwright Ludwig has provided lots of fodder for fun and frivolity for all the characters. Playing Florence, Betty Petersen gets to snap and snarl as Flo returns to life after Doc declares her dead. Peterson takes great joy getting back at her incompetent doctor, even ending up cha-chaing at her niece's engagement party.
Director Pocaro has all performers up to speed with movement and dialogue in this fast-paced romp. Some costume malfunctions only added to the hilarity.
If you go
Who: Sunset Playhouse
What: "Leading Ladies"
When: Through June 23
Where: 800 Elm Grove Road
Info/Tickets: 262-782-4430, SunsetPlayhouse.com