Furlan Auditorium Production
BAREFOOT IN THE PARK, 2021-22 Season
Evenings at 7:30 PM, Saturday Matinee (March 19, 2022) at 3 PM, Sunday Matinees at 2 PM
Adults – $22.00
Seniors – $20.00
Child – $11.00 (12 and under)
Value Nights (March 3 & 9, 2022) – $11.00
$1 per ticket fee for phone order / $3 per ticket fee for online order
Overview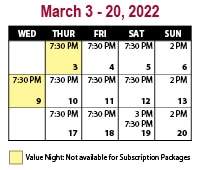 Paul and Corie Bratter are newlyweds in every sense of the word. He's a stuffy, ambitious young lawyer and she's a romantic, free spirit. After a six-day honeymoon, she's found the perfect apartment, a tiny fifth floor walk-up in Greenwich Village. Neil Simon's first play and launchpad for his reign as the king of Broadway comedies.
Sunset has enjoyed FIVE successful productions of this Simon masterwork ('67, '72, '80, '88, '92)! We show our gratitude with one more homage to the most successful playwright in American history.
Barefoot in The Park will lift your spirits and feed your soul.
Masks are no longer required, however, if you feel more comfortable feel free to wear one.
Our 2021-22 Season will offer full-capacity seating.
Patron Volunteers, Performers, and Staff are asked to stay home if not feeling well.
There will be hand sanitizing stations in the lobby please use before entering the theater. Frequent use of hand sanitizer as well as frequent hand-washing recommended for all.
Performed in the Furlan Auditorium with a 15-minute intermission
Sponsor Information
Cast list
Production Credits