Furlan Auditorium Production
4 WEDDINGS AND AN ELVIS, 2021-22 SEASON
Tickets for THIS production will be on sale starting January 1, 2022.
Important Note: Do NOT purchase seats next to someone who is not in your party. For a single ticket, or an odd number of tickets, please call the Box Office at 262.782.4430
You must wear a mask to attend a Sunset performance.
Evenings at 7:30 PM, Saturday Matinee (February 5, 2022) at 3 PM, Sunday Matinees at 2 PM
Adults – $22.00
Seniors – $20.00
Child – $11.00 (12 and under)
Value Nights (January 20 & 26, 2022) – $11.00
$1 per ticket fee for phone order / $3 per ticket fee for online order
Overview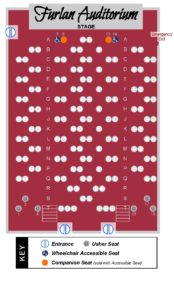 Sandy, the four-times-married-three-times-divorced owner of a wedding chapel in Las Vegas, has certainly seen her fair share of matrimonies!
In the hilarious Four Weddings and an Elvis, we witness four of her funniest and most memorable:
Bev and Stan, who are getting married by the King himself as revenge on their exes.
Vanessa and Bryce, two arrogant aging stars who are tying the knot as a publicity ploy, and are vexed by an aging Elvis who doesn't know who they are.
Martin and Fiona, a gentle postal-worker and a tough ex-con trying to get married before the police arrive!
And the final, most touching, wedding of all – Sandy's fifth and final wedding to the love of her life!
Suggested for mature audiences due to language
Come enjoy four acts of love…or something like it. What happens in Las Vegas…is hilarious!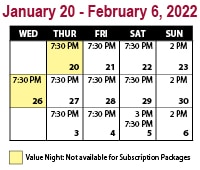 General Guidelines for Sunset Playhouse Patrons*
Patrons, volunteers, and staff MUST provide and wear face masks when inside Sunset Playhouse.
Tickets for individual productions will be sold by designated release date.
Doors to the building will open 30 minutes before the show starts. As patrons enter, they will move directly to their reserved seats.
Coat check will be closed.
For now, concessions will not be available.
Performers will not wear masks during a performance.
There will be no intermissions for Musical MainStage concerts or SideNotes Cabarets.
Calendar
Sponsor Information
Cast list