Furlan Auditorium Production
Evenings at 7:30 PM, Saturday Matinee (June 19, 2021) at 3 PM, Sunday Matinees at 2 PM
Adults – $22.00
Seniors – $20.00
Child – $11.00 (12 and under)
Groups of 10 or more – $17 Click HERE for more information
Value Nights (June 3 & June 9, 2021) – $11.00
$3 per ticket fee for online order / $1 per ticket fee for phone order

Online sales close 1 hour prior to performance. Tickets may be purchased at Box Office window until showtime.
All Sales FINAL – No Refunds
Overview
An Inspector Calls is set in April, 1912 at the home of the well-to-do Birling family. Arthur Birling, a self-made businessman, wife Sybil, daughter Sheila, and son Eric are enjoying a spot of port in the drawing room after dinner. As the family revels in their good fortune and position in society, they are interrupted by an unexpected visitor.
A young, working class woman has committed suicide and suddenly this respectable British family is caught up in an inspector's routine inquiry. As his investigation unfolds and the close-knit, friendly family begins to reveal their true character and closely-held secrets, all members become implicated in the girl's undoing.
Audience members will be on the edge of their seats throughout the performance, wondering where the investigation will take them next.
Directed by Carol Dolphin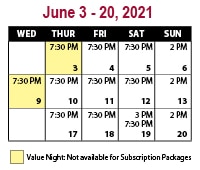 Calendar
Sponsor Information
Cast list