Furlan Auditorium Production
AN INSPECTOR CALLS, 2021-22 SEASON
Tickets for THIS production will be on sale starting May 1, 2022.
Important Note: Do NOT purchase seats next to someone who is not in your party. For a single ticket, or an odd number of tickets, please call the Box Office at 262.782.4430
You must wear a mask to attend a Sunset performance.
Evenings at 7:30 PM, Saturday Matinee (June 19, 2021) at 3 PM, Sunday Matinees at 2 PM
Adults – $22.00
Seniors – $20.00
Child – $11.00 (12 and under)
Value Nights (June 3 & June 9, 2021) – $11.00
$1 per ticket fee for phone order / $3 per ticket fee for online order
Overview
An Inspector Calls is set in April, 1912 at the home of the well-to-do Birling family. Arthur Birling, a self-made businessman, wife Sybil, daughter Sheila, and son Eric are enjoying a spot of port in the drawing room after dinner. As the family revels in their good fortune and position in society, they are interrupted by an unexpected visitor.
A young, working class woman has committed suicide and suddenly this respectable British family is caught up in an inspector's routine inquiry. As his investigation unfolds and the close-knit, friendly family begins to reveal their true character and closely-held secrets, all members become implicated in the girl's undoing.
Audience members will be on the edge of their seats throughout the performance, wondering where the investigation will take them next.
Directed by Carol Dolphin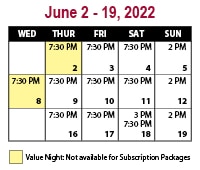 General Guidelines for Sunset Playhouse Patrons*
Patrons, volunteers, and staff MUST provide and wear face masks when inside Sunset Playhouse.
Tickets for individual productions will be sold by designated release date.
Doors to the building will open 30 minutes before the show starts. As patrons enter, they will move directly to their reserved seats.
Coat check will be closed.
For now, concessions will not be available.
Performers will not wear masks during a performance.
There will be no intermissions for Musical MainStage concerts or SideNotes Cabarets.
Unfortunately, post-show lobby gatherings will not be possible.
*Additional guidelines may be added—or some removed—based on CDC guidelines and state mandates.
Calendar
Sponsor Information
Cast list