Furlan Auditorium Production
Tickets for THIS production will be on sale starting May 3, 2022.
Evenings at 7:30 PM, Saturday Matinee (July 31) at 3 PM, Sunday Matinees at 2 PM
TICKETS
Adults – $26.00
Seniors – $24.00
Child – $13.00 (12 and under)
Value Nights (July 15 & 21) – $13.00
$1 per ticket fee for phone order / $3 per ticket fee for online order
Overview
Set in turn-of-the century New York City, NEWSIES is the rousing tale of Jack Kelly, a charismatic newsboy and leader of a band of teenage newsies. When titans of publishing raise distribution prices at the newsboys' expense, Jack rallies newsies from across the city to strike against the unfair conditions and fight for what's right!
Based on the 1992 motion picture and inspired by a true story, packed with non-stop thrills and a timeless message, NEWSIES is perfect for the whole family!
Stop the presses! This Disney film turned Tony-winning Broadway hit inspires everyone to fight for what's right and seize the day!
Directed and Choreographed by Karl Miller
Music Direction by Mark Mrozek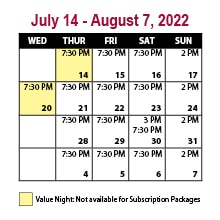 General Guidelines for Sunset Playhouse Patrons*
Patrons, volunteers, performers, and staff who are FULLY VACCINATED are NOT REQUIRED to wear a mask, however, if you feel more comfortable, please feel free to wear one when visiting Sunset.
Patrons, volunteers, performers, and staff who are NOT FULLY VACCINATED are REQUIRED to wear a mask when visiting Sunset.
Seating for 2021-22 will be full-capacity.
Performed in the Furlan Auditorium. There will be a 15-minute intermission.
*Additional guidelines may be added—or some removed—based on CDC guidelines and state mandates.
Calendar
Sponsor Information
Cast list