Furlan Auditorium Production
Evenings at 7:30 PM, Saturday Matinee (September 26, 2020) at 3 PM, Sunday Matinees at 2 PM
Adults – $22.00
Seniors – $20.00
Child – $11.00 (12 and under)
Groups of 10 or more – $17 Click HERE for more information
Value Nights (September 10 & 16, 2020) – $11.00
$3 per ticket fee for online order / $1 per ticket fee for phone order

Online sales close 1 hour prior to performance. Tickets may be purchased at Box Office window until showtime.
All Sales FINAL – No Refunds
Overview
John Smith, a happy London taxi driver with an irregular working schedule, has one little problem. He is married. TWICE! Wife number one, Mary, lives in Wimbledon and second wife Barbara in Streatham – just five minutes apart by taxi! John keeps to a rigorous schedule so that the two will never meet and everyone is blissfully happy, especially John!
One day, heroically intervening in a mugging, John is taken to the hospital with a concussion. The police become involved. John panics and enlists the help of clueless neighbor Stanley. Bad choice! The more they lie to keep our hero's double life from exploding, the deeper the hole they dig, and the more the situation goes horribly, but hilariously, wrong.
Ray Cooney's RUN FOR YOUR WIFE has delighted audiences with smash-hit runs all over the world. So jump in the taxi, where you'll laugh until you cry.
"Virtually continuous laughter." – The New York Post
Directed by Brian Zelinski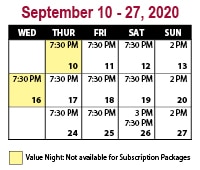 Calendar
Sponsor Information
Cast list