Furlan Auditorium Production
SOMETHING ROTTEN, 2021-22 Season
Tickets for THIS production will be on sale starting March 1, 2022.
Important Note: Do NOT purchase seats next to someone who is not in your party. For a single ticket, or an odd number of tickets, please call the Box Office at 262.782.4430
You must wear a mask to attend a Sunset performance.
Evenings at 7:30 PM, Saturday Matinee (March 19, 2022) at 3 PM, Sunday Matinees at 2 PM
Adults – $26.00
Seniors – $24.00
Child – $13.00 (12 and under)
Value Nights (April 15 & 21, 2022) – $13.00
$3 per ticket fee for online order / $1 per ticket fee for phone order / $3 per ticket fee for online order
Overview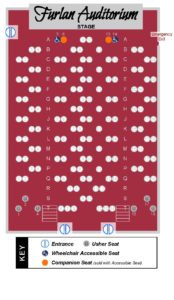 Welcome to the Middle Ages! Set in 1595, the hilarious SOMETHING ROTTEN! tells the story of brothers Nick and Nigel Bottom, desperate to write a hit play but stuck in the shadow of that Renaissance rock star known as "the Bard." When a local soothsayer foretells that the future of theater involves singing, dancing, and acting at the same time, the boys set out to write the world's very first musical. But in the scandalous excitement of opening night, the Bottoms realize that reaching the top means being true to thine own self–and all that jazz.
With its heart on its ruffled sleeve and sequins in its soul, New York Magazine calls SOMETHING ROTTEN! the "funniest musical comedy in at least 400 years!"
With big song and dance numbers and a wacky cast of over-the-top characters, the musical received show-stopping standing ovations from Broadway audiences—from the top of the first act!
"THE PRODUCERS + SPAMALOT + THE BOOK OF MORMAN. Squared!" – New York Magazine
General Guidelines for Sunset Playhouse Patrons*
Patrons, volunteers, and staff MUST provide and wear face masks when inside Sunset Playhouse.
Tickets for individual productions will be sold by designated release date.
Doors to the building will open 30 minutes before the show starts. As patrons enter, they will move directly to their reserved seats.
Coat check will be closed.
For now, concessions will not be available.
Performers will not wear masks during a performance.
There will be no intermissions for Musical MainStage concerts or SideNotes Cabarets.
Unfortunately, post-show lobby gatherings will not be possible.
*Additional guidelines may be added—or some removed—based on CDC guidelines and state mandates.
Calendar
Sponsor Information
Cast list