After Sunset Studio Series
Note: You must wear a mask when inside Sunset Playhouse
May 20 – 22, 2021 at 7:30 PM
May 23, 2021 at 2 PM
For Mature Audiences only
TICKETS
Reserved Tickets – $16.00 each
Doors open 1/2 hour before the performance
Performed in the Marla Eichmann Studio Theater
Tickets for THIS production on sale May 1, 2021. Purchase tickets at the box office window, by phone at 262-782-4430, or email at boxoffice@sunsetplayhouse.com.
Performed without an intermission
Note: You must wear a mask while inside Sunset Playhouse.
If you are ill on the night for which you hold tickets, please DO NOT ATTEND the performance. Call the box office to exchange for a different performance or a different production.
Overview
For Mature Audiences only
An Obie Award-winning whirlwind tour of a forbidden zone, THE VAGINA MONOLOGUES introduces a wildly divergent gathering of female voices, including a six-year-old girl, a septuagenarian New Yorker, a vagina workshop participant, a woman who witnesses the birth of her granddaughter, a Bosnian survivor of rape, and a feminist happy to have found a man who "liked to look at it."
A staged reading performed in the Marla Eichmann Studio Theater. General admission, table seating.
For mature audiences only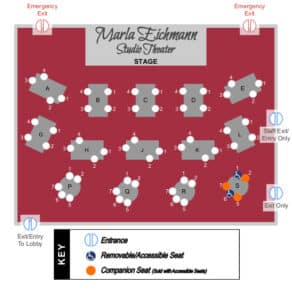 General Guidelines for Sunset Playhouse 2020-21 Season

Patrons, volunteers, and staff MUST provide and wear face masks when inside Sunset Playhouse.
Tickets will be available for purchase in-person at the box office window, by phone (262-782-4430) or via email boxoffice@sunsetplayhouse.com
For now, tickets will not be available online.
Tickets for individual productions will be sold by designated release date.
If a patron is ill on the night they hold tickets, we will offer a free exchange for a future show or a refund.
Doors to the building will open 30 minutes before the show starts. As patrons enter, they will move directly to their reserved seats.
Coat check will be closed.
Programs will be a single-page document.
There will be sanitizing stations in the lobby.
High-touch surfaces will be cleaned on a regular basis.
For now, concessions will not be available.
Performers will not wear masks during a performance.
There will be no intermissions for After Sunset shows.
Unfortunately, post-show lobby gatherings will not be possible.
Additional guidelines may be added—or some removed—as the situation evolves.
Calendar
Sponsor Information
Cast list
Cast List
Emily Farebrother
Susan Loveridge
Cheryl Roloff