Furlan Auditorium Production
WAIT UNTIL DARK, 2021-22 Season
Tickets for THIS production will be on sale starting September 1, 2021.
Evenings at 7:30 PM, Saturday Matinee (November 6, 2021) at 3 PM, Sunday Matinees at 2 PM
Adults – $22.00
Seniors – $20.00
Child – $11.00 (12 and under)
Value Nights (October 21 & 27, 2021) – $11.00
$1 per ticket fee for phone order / $3 per ticket fee for online order
Overview
Susy Hendrix, a blind Greenwich Village housewife, becomes the target of three con-men searching for a missing doll. (It was her husband who unwittingly transported it from Canada, a favor to a woman since murdered.) As the climax builds, Susy realizes that her blindness might be the key to her escape, but she and her tormentors must wait until dark to play out this classic thriller's chilling conclusion. Set in 1944, Hatcher's adaption gives the show a film noir twist, heightening the suspense and paranoia.
A roller-coaster ride that leaves the audience giddy from terror!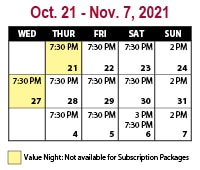 General Guidelines for Sunset Playhouse Patrons*
Patrons, volunteers, performers, and staff who are

FULLY VACCINATED

are

NOT REQUIRED

to wear a mask, however, if you feel more comfortable, please feel free to wear one when visiting Sunset.

Patrons, volunteers, performers, and staff who are NOT FULLY VACCINATED are REQUIRED to wear a mask when visiting Sunset.
Seating for 2021-22 will be full-capacity.
Coat check will not be available.
Performed in the Furlan Auditorium. There will be a 15-minute intermission.
*Additional guidelines may be added—or some removed—based on CDC guidelines and state mandates.
Calendar
Sponsor Information
Cast list