2016-17 SIDENOTES CABARET SERIES
Sunset Playhouse will present six original productions as part of its 2016-17 SideNotes Cabaret Series. SideNotes offers a unique assortment of musical entertainment presented by talented professionals in the comfortable atmosphere of Sunset's Studio Theatre, a relaxed and intimate setting complete with a full-service bar.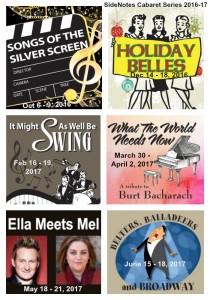 The SideNotes season begins in October with SONGS OF THE SILVER SCREEN, a look back at the glittering melodies and sparkling lyrics that have become memorable movie stars in their own right. In December, HOLIDAY BELLES celebrates the season with a sleigh full of jazzy harmonies, melodies of the big band era, and a hearty helping of jolly favorites.
IT MIGHT AS WELL BE SWING features Pete Sorce and Swing Explosion as they present a nostalgic musical Valentine from the Great American Songbook. The songs of Burt Bacharach will be showcased in March with WHAT THE WORLD NEEDS NOW, a retrospective of the unique style and syncopated rhythms of the composer's many acclaimed hits.
In May, vocalists Ellen Winters and Johnny Rodgers perform dramatic ballads, blazing scat, and complex vocal duets in their award-winning cabaret ELLA MEETS MEL, a tribute to jazz legends Ella Fitzgerald and Mel Torm. The SideNotes series concludes in June with BELTERS, BALLADEERS, AND BROADWAY, a cavalcade of classic ballads, famous belters, and show-stopping music from the Golden Age of Broadway.
SONGS OF THE SILVER SCREEN – October 6-9, 2016
HOLIDAY BELLES – December 14-18, 2016
IT MIGHT AS WELL BE SWING – February 16-19, 2017
WHAT THE WORLD NEEDS NOW – March 30-April 2, 2017
ELLA MEETS MEL – May 18-21, 2017
BELTERS, BALLADEERS, AND BROADWAY – June 15-18, 2017
Season tickets for the 2016-17 season at Sunset Playhouse are now on sale, both Full Package and Pick & Choose Flexible Package. Individual tickets will go on sale July 5, 2016.