Welcome to Sunset Playhouse
The Sunset Playhouse is a story of friendship, camaraderie, joy, hard work, and perseverance. Since its first production of THE TURN OF THE SCREW, the Playhouse has been blessed with the contribution of 1,402,050 hours of dedicated service from 36,850 extraordinary volunteers.
Our SideNotes Cabaret pays homage to Dame Julie Andrews in THE SOUND OF HER MUSIC. Back by popular demand,…
Novelist Charles Condomine, living with second wife Ruth, invites local medium Madame Arcati to his home to help him…
All new for 2023! Enjoy a seasonal mixture of magic and humor with some tricks 'n' treats in our…
Subscribe to Our Newsletter
Would you like to receive information on Sunset, our upcoming shows and events, volunteer opportunities, and more?
Welcome! We hope you will audition for a Sunset show!
We hold auditions for all performances at Sunset Playhouse, and EVERYONE is welcome to try-out for every show!
Sunset Playhouse loves our volunteers.  We rely on them to help create the high-quality productions that Sunset is known for.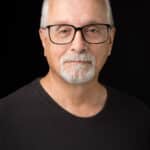 Tim Gensler, currently playing Frank Kosinski in the community theater world premiere of DAD'S SEASON TICKETS, now in the Sunset Spotlight. When did you…
Sunset Playhouse has been educating, entertaining, and inspiring children and adults since 1960!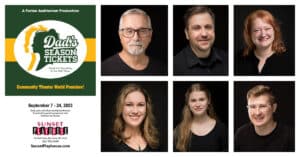 DAD'S SEASON TICKETS Which of Frank's three daughters will inherit his treasured season tickets? The Kosinski sisters employ every trick in the playbook. From kickoff
The July issue of the Elm Leaves Magazine features a wonderful article on Sunset Playhouse: THE SUNSET PLAYHOUSE: A COMMUNITY SHOWSTOPPER. Thanks to Mary K.